Ask a Master Gardener: When to Plant Amaryllis Bulbs?
Happy Halloween! I admit, I shuddered a bit to see Target being transformed into a Christmas wonderland this week, but at the same time, it was a good reminder: time to plant amaryllises! This edition of Ask a Master Gardener attempts to demystify what is admittedly a fairly easy process—it just requires some planning.
Q: When should I plant amaryllis bulbs to have blooms around the holidays?
A: Now!
Okay, that's it, next question. Just kidding. Amaryllis bulbs take around 6-8 weeks to be "forced" to bloom, but in my experience that timeframe can differ quite a bit. Is your house a bit on the cool side, like mine? It may take longer than 8 weeks.
If you want blooms on December 25, Amaryllis bulbs should be started this week. If you're not too fussy about the actual timing of the bloom, then start them anytime during the month of November. It's not like you'd be sad to have a giant red flower blooming in your house in January.
I've been growing Amaryllis bulbs for many years, mostly because it is rather simple. The hardest part is remembering to start them.
I planted mine this weekend, so I put together a photo tutorial for you.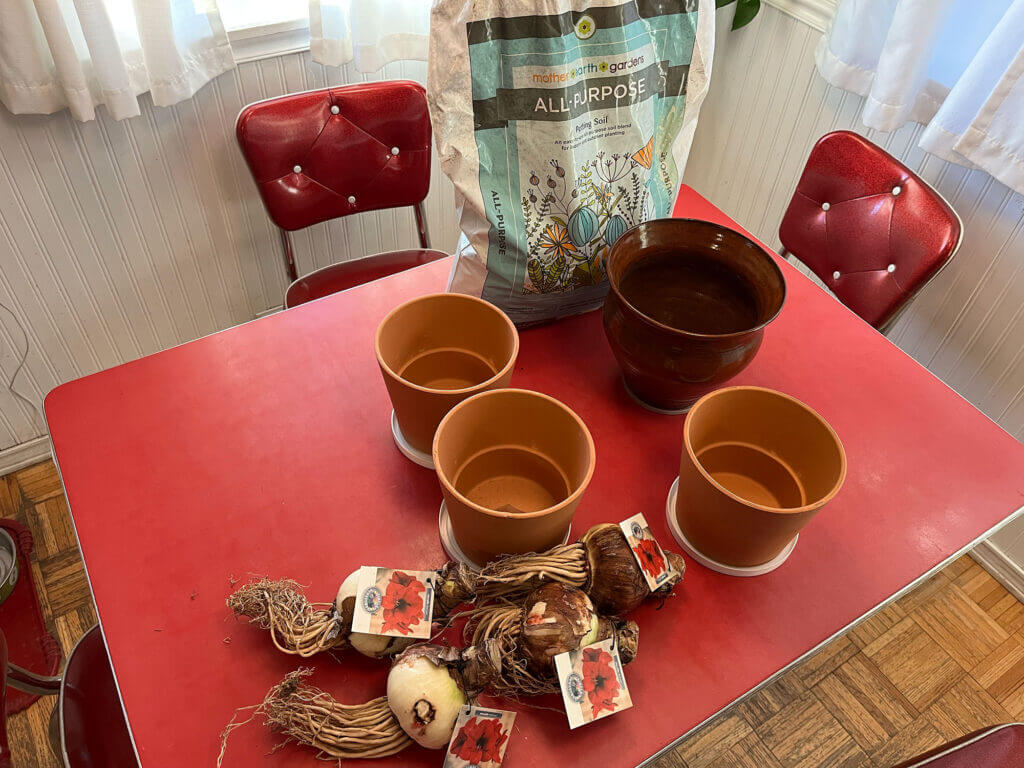 First, gather your stuff. I am giving away 3 of the 4 bulbs I planted to family members, so I used 4 pots. To grow a single bulb, the pot should be just a little bigger than the bulb itself—these little brown ones are 6 inches high by 6 inches in diameter, just about perfect.
I've also grown 3 bulbs together in one larger pot (see the blooming photos from last year). Pots can be a little bigger than this, but if you go smaller you could end up with a top-heavy flower.
Pots should always, always, have drainage holes, and this is especially true for amaryllis bulbs. They don't take up a ton of water so it can be easy to overwater them and then you risk rot. I have made this mistake before.
I like to put a shard of old broken pottery over the hole at the bottom just to keep things slightly neater.
To start, fill the pot about one fourth to one third full of potting soil.
Make a nice well in the center of the soil.
Grasp your bulb so that the roots hang down into the well and the top sticks out a bit above the pot.
Using your other hand, fill in with potting soil and pat gently into place. Approximately half the bulb can and should be sticking up above the surface of the soil.
Give it a good soaking of water, until the water starts to run out the bottom of the pot.
Dump excess water out of your catchment tray after it's done.
If you wish, put a decorative mulch on your pot.
I've used a variety of things for this, but this year I'm using some shredded wood packing material that was in a box of some plants I had shipped to me this summer.
The bulb needs bright, indirect light, so figure out where you want to place it during the long waiting game.
Water sparingly, always checking the surface of the soil to see if it's dried out before adding more.
Within a few weeks, your bulb should send up a thick green stalk. As it gets bigger, the stalk may require staking, especially as the flower gets closer to blooming.
Amaryllis bulbs can be saved and reused from year to year, but it's not simply a matter of keeping them alive. They will grow lots of foliage after blooming, and this is the time to fertilize them regularly.
Then, in the late summer, they need to be dried, put somewhere cool or cold for 8-10 weeks to trick them into thinking it's winter. To be honest, I have tried a handful of times and never successfully saved an amaryllis bulb and gotten it to rebloom. If you want to try it, this is a good tutorial.
Good luck with your indoor bulb experiments this winter!
Do you have some late fall gardening questions? Ask them in the comments below! We'll check in and answer as many questions as we can for the rest of this week. If we don't get to yours, you can Ask a Master Gardener via our online form, or call the Yard and Garden Line at (612) 301-7590.
Other helpful resources:
Jennifer Rensenbrink is a University of Minnesota Extension Master Gardener for Hennepin County. She grows native plants, vegetables and fruit in her south Minneapolis yard. You can follow her gardening adventures on Instagram.
To learn more, join a webinar or workshop...